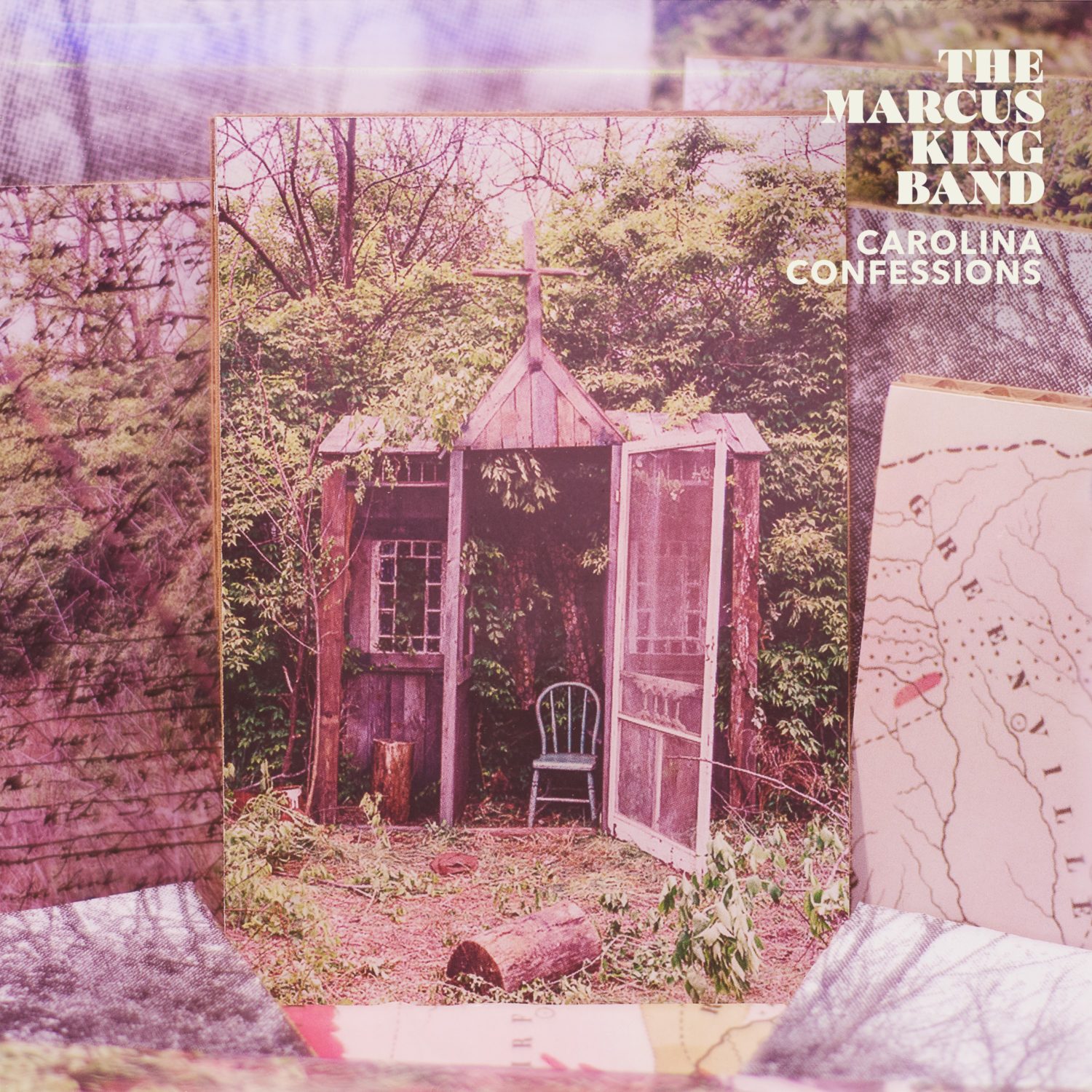 LISTEN TO TWO NEW TRACKS AT NPR MUSIC
CATCH THEIR LATE-NIGHT DEBUT ON CONAN TUESDAY, AUGUST 28TH
The Marcus King Band have already given fans reason to believe they are destined for great things. At 22 years of age, Marcus King has been a bandleader for a decade and tipped as "music's next great guitarist" by the Washington Post. But the band's daring, ambitious new album, Carolina Confessions, marks an artistic leap of another order. Set for release on October 5th, 2018 on Fantasy Records, the album was produced and mixed by Grammy Award-winner Dave Cobb (Chris Stapleton, Sturgill Simpson, Jason Isbell) and recorded at Nashville's iconic RCA Studio A. And it finds the band's trademark musicianship buoyed by a new narrative depth, as Marcus delves into heavy themes: absolution, guilt, leaving home, yearning, love and other affairs of the soul.
The band have shared two new tracks from the album via NPR Music. Listen to lead single "Homesick" and "Welcome 'Round Here" plus read Marcus' feature interview with World Café's Bruce Warren HERE.
Pre-order Carolina Confessions at marcuskingband.com.
Carolina Confessions features 10 brand-new songs, all written by Marcus except for "How Long," which was co-written with the Black Keys' Dan Auerbach and veteran songwriter Pat McLaughlin. Whether it's the searing rock exorcism of "Confessions" or the propulsive road-bound soul of "Where I'm Headed," Marcus exhibits an almost Southern gothic sensibility in his songs, owning up to failed relationships, portraying his complex connection with his hometown, arraying a sprawling musical firmament in the process.
Marcus and his five bandmates — drummer Jack Ryan, bass player Stephen Campbell, trumpeter/trombonist Justin Johnson, sax player Dean Mitchell and keyboard player DeShawn "D'Vibes" Alexander — are in top form on Carolina Confessions, exhibiting an intuitive sense of control and expression as they tackle their most sonically layered and emotionally complex compositions to date.
The Marcus King Band makes their late-night debut on CONAN on August 28th. Coinciding with the release of Carolina Confessions, this fall will also see the return of the band's own Marcus King Band Family Reunion Festival on October 5th-6th in Black Mountain, NC. Special guests at the Family Reunion will include the Revivalists, Nikki Lane, Carl Broemel (My Morning Jacket), Chuck Leavell (Allman Brothers, Rolling Stones) and others. Later in the fall, The Marcus King Band will embark on a worldwide headlining tour; see below for a complete list of upcoming dates.
Watch the album teaser HERE
Pre-order + listen HERE
Carolina Confessions Track list:
"Confessions"
"Where I'm Headed"
"Homesick"
"8 a.m."
"How Long"
"Remember"
"Side Door"
"Autumn Rains"
"Welcome 'Round Here"
"Goodbye Carolina"
The Marcus King Band Tour Dates:
8.22 @ Duling Hall in Jackson, MS**
8.23 @ Tipitina's in New Orleans, LA**
8.24 @ House of Blues – Bronze Peacock in Houston, TX**
8.25 @ Mohawk in Austin, TX**
8.26 @ House of Blues – Cambridge Room in Dallas, TX**
8.29 @ Launchpad in Albuquerque, NM**
8.30 @ The Green Room in Flagstaff, AZ**
8.31 @ Crescent Ballroom in Phoenix, AZ**
9.1 @ 191 Toole in Tucson, AZ**
9.4 @ Belly Up in Solana Beach, CA**
9.5 @ Troubadour in West Hollywood, CA**
9.6 @ Troubadour in West Hollywood, CA**
9.7-9.8 @ Big Blues Bender in Las Vegas, NV
9.10 @ The Catalyst – Atrium in Santa Cruz, CA**
9.11 @ Great American Music Hall in San Francisco, CA**
9.12 @ Mystic Theatre in Petaluma, CA**
9.14 @ The Commonwealth Room in South Salt Lake City, UT**
9.15 @ Telluride Blues & Brews in Telluride, CO
9.16 @ Gothic Theatre in Denver, CO**
9.18 @ Bourbon Theater in Lincoln, NE**
9.19 @ Delmar Hall in St. Louis, MO**
9.21 @ Zydeco in Birmingham, AL**
9.22 @ Bristol Rhythm & Roots Reunion in Bristol, TN
9.23 @ Bogart's in Cincinnati, OH**
9.25 @ The Vogue in Indianapolis, IN**
9.26 @ Thalia Hall in Chicago, IL**
9.27 @ Amsterdam Bar and Hall in Saint Paul, MN**
9.28 @ Gabe's in Iowa City, IA**
9.29 @ Kilbourn City Live in Wisconsin Dells, WI**
9.30 @ Turner Hall Ballroom in Milwaukee, WI**
10.5 @ The Marcus King Band Family Reunion in Black Mountain, NC
10.6 @ The Marcus King Band Family Reunion in Black Mountain, NC
10.10 @ La Cigale in Paris, France
10.11 @ Café Charbon in Coulanges-les-nevers, France
10.12 @ Arcadium in Annecy, France
10.13 @ Avignon Blues Festival in Avignon, France
10.15 @ Santeria Social Club in Milano, Italy
10.16 @ Kaufleuten Festsaal in Zurich, Switzerland
10.17 @ Rockfabrik in Ludwigsburg, Germany
10.18 @ Batschkapp in Frankfurt Am Main, Germany
10.19 @ Columbia Theater in Berlin, Germany
10.21 @ Knust in Hamburg, Germany
10.22 @ Paradiso Noord in Nieuw-amsterdam, Netherlands
10.23 @ Doornroosje in Nijmegen, NL
10.25 @ The Fleece in Bristol, United Kingdom
10.26 @ Islington Assembly Hall in London, United Kingdom
10.27 @ Night & Day Café in Manchester, United Kingdom
10.28 @ Stereo in Glasgow, United Kingdom
11.7 @ Cannery Ballroom in Nashville, TN*
11.8 @ Songbirds South in Chattanooga, TN*
11.10 @ Volcano Room at Cumberland Caverns in McMinnville, TN*
11.12 @ Jefferson Theater in Charlottesville, VA*
11.13 @ The Stone Pony in Asbury Park, NJ*
11.15 @ Theatre of Living Arts in Philadelphia, PA*
11.16 @ Irving Plaza in New York, NY*
11.17 @ Pearl Street in Northampton, MA*
11.18 @ The Sinclair in Cambridge, MA*
11.21 @ Aura in Portland, ME*
11.23 @ Higher Ground Ballroom in South Burlington, VT*
11.24 @ Cohoes Music Hall in Cohoes, NY*
11.25 @ Iron Works in Buffalo, NY*
11.26 @ Phoenix Concert Theatre in Toronto, ON*
11.27 @ The Club at Stage AE in Pittsburgh, PA*
11.29 @ The Loft in Lansing, MI*
11.30 @ Elevation in Grand Rapids, MI*
12.1 @ St. Andrews Hall in Detroit, MI*
12.2 @ Bluebird Nightclub in Bloomington, IN*
12.4 @ Mercury Ballroom in Louisville, KY*
12.6 @ 9:30 Club in Washington D.C.*
1.20 @ Island Exodus 10 in Runaway Bay, Jamaica

**w/ Bishop Gunn
*w/ Ida Mae
Follow Marcus King Band:
Official Site
Facebook
Instagram
Twitter