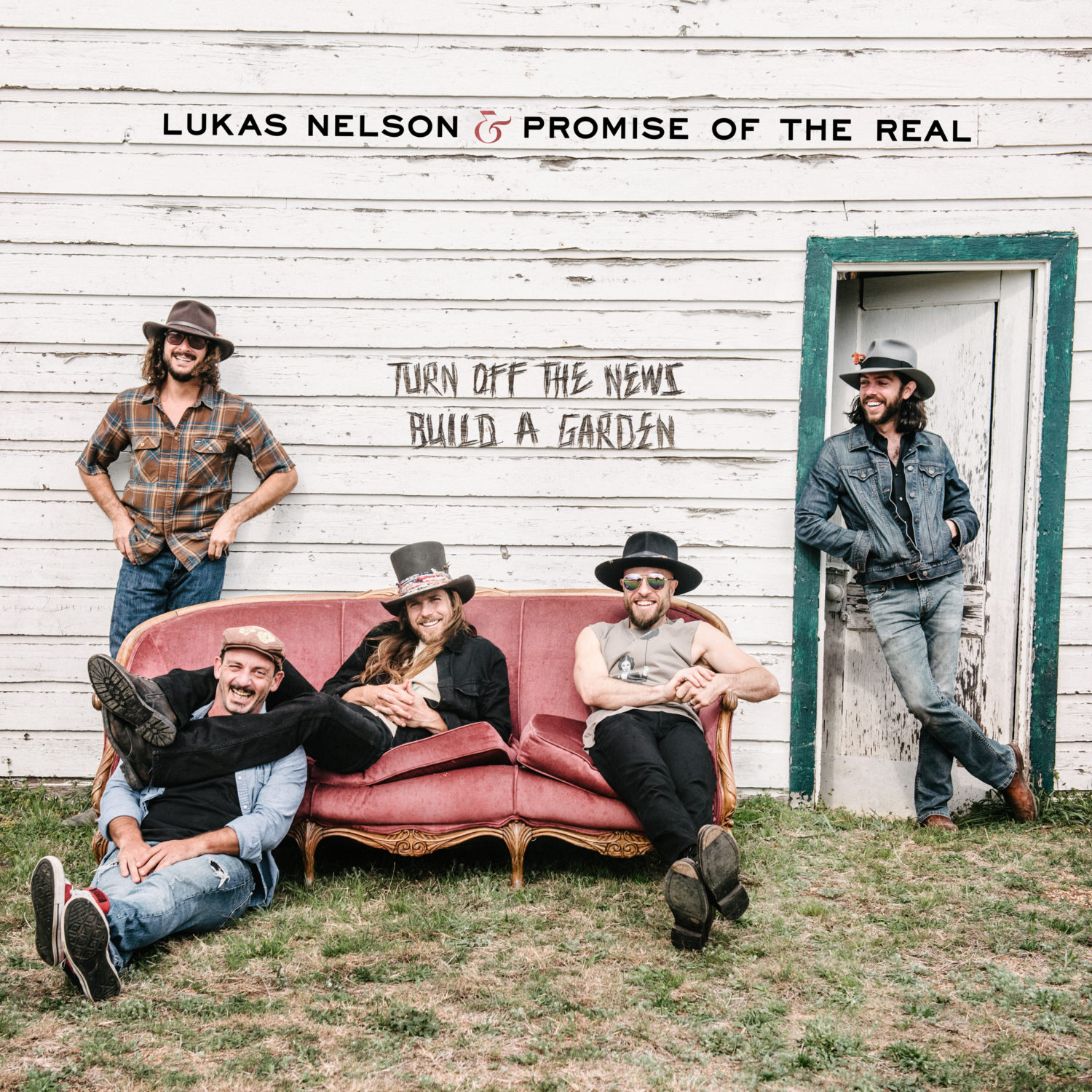 Guest Appearances Include Sheryl Crow, Kesha, Margo Price, Willie Nelson, Micah Nelson, Shooter Jennings, Randy Houser, Lucius and Neil Young Among Others
Listen To Lead Track "Bad Case": HERE
Straddling rock and roll, country, soul, folk and R&B, Lukas Nelson & Promise of the Real reach a new high-water mark on Turn Off The News (Build A Garden) their second full-length album for Fantasy Records due June 14th, 2019. This is Lukas Nelson at his best: as a songwriter, a singer, a guitarist and band leader – an artist at the peak of his powers, backed by Promise of the Real, his nimble and dexterous brothers-in-arms, one of the most talented, in-demand rock and roll ensembles working today. Listen to the album's anthemic first single, "Bad Case" HERE
Pre-Order Turn Off The News (Build A Garden) HERE
Watch the album trailer HERE
Recorded at Shangri-La in Malibu and the Village Studios in West L.A., Turn Off The News (Build A Garden) was co-produced by Lukas Nelson & Promise of the Real and John Alagia, who helmed the group's previous effort in 2017. The band: bassist Corey McCormick, drummer Anthony Logerfo, percussionist Tato Melgar, multi-instrumentalist Logan Metz and Lukas Nelson, worked fast recording 30 original songs during brief breaks between tours. They tracked straight to analog tape, keeping overdubs to a minimum while focusing on the live performances. Vocal and instrumental contributions from friends and family include Margo Price, Sheryl Crow, Willie Nelson, Micah Nelson, Kesha, Shooter Jennings, Randy Houser, Lucius, Madison Ryann Ward, Hunter Elizabeth and Neil Young.
"We wanted these songs to be fun and upbeat," says Nelson, "but we also wanted to have something to say. Rock & roll began as a countercultural movement, so in the true spirit of rock & roll, we're trying to encourage a lifestyle where people can be active in their local communities, rather than glued to a device.
We listen to so many artists — the Byrds, Tom Petty, Al Green, Neil Young, Little Feat, J.J. Cale — and this album carries forth something they all represented, the idea of turning off the news and doing something constructive. It's a statement about how you can live your life with your heart leading the way."
Whether it's the sweeping, Roy Orbison-influenced production of "Where Does Love Go," nodding to the Traveling Wilburys on the irresistible "Bad Case," the cosmic country vibes of "Stars Made of You," the 60's infused sweet R&B of "Save A Little Heartache," or the unmistakable Willie Nelson guitar licks that grace the poignant "Mystery," it all comes together in the most mature and absorbing work of the band's burgeoning career.
Lukas Nelson & Promise of the Real have seen their profile rise dramatically in the two years since the release of their self-titled Fantasy debut. The band has headlined shows and festivals all over world and made a number of prestigious television appearances, all while continuing to blow minds as Neil Young's go-to musical ensemble both on the road and in the studio. Additionally, Turn Off The News (Build A Garden) arrives on the heels of the group's high-profile collaboration with Lady Gaga and Bradley Cooper on 2018's blockbuster film and soundtrack, A Star Is Born. Lukas not only co-wrote and co-produced much of the film's multi-platinum, Oscar-winning soundtrack, he also worked closely with Cooper in crafting the lead character's (Jackson Maine) musical persona. And in a classic case of art imitating life, Nelson and Promise of the Real appear in the movie too, performing as Maine's backing band just as they've performed with Neil Young for years. Just recently, Lukas, Gaga and Cooper won the BAFTA Award for Film Music, one of the many accolades bestowed on the acclaimed project since its release.
2019 is shaping up to be another year full of career milestones. On May 16th, Lukas Nelson and Promise of the Real will open for The Who at Nashville's Bridgestone Arena. The next day, May 17th marks their first-ever headline performance at Nashville's legendary Ryman Auditorium, which sold out in a matter of days. Other highlights also include two sold-out shows at San Francisco's Fillmore Auditorium, multiple gigs throughout the year on the Outlaw Music Festival Tour, a return engagement at the Newport Folk Festival, domestic and international dates with Neil Young and summer stadium shows opening for the Zac Brown Band. (Confirmed tour dates listed below.)
Turn Off The News (Build A Garden) TRACK LIST:
Bad Case
Turn Off The News (Build A Garden)
Where Does Love Go
Save A Little Heartache
Lotta Fun
Civilized Hell
Mystery
Simple Life
Out In LA
Something Real
Stars Made Of You
Turn Off The News (Build a Garden) [Acoustic]
Consider It Heaven
Lukas Nelson & Promise of the Real on tour:
May 2 – Pittsboro, NC @ Shakori Hills Grassroots Festival
May 3 – Richmond, VA @ Friday Cheers
May 4 – Wilmington, NC @ Greenfield Lake Amphitheater
May 5 – Memphis, TN @ Beale Street Music Festival
May 7 – Kansas City, MO @ Knuckleheads
May 8 – Kansas City, MO @ Knuckleheads
May 10 – New Braunfels, TX @ Whitewater Amphitheater+
May 11 – Arlington, TX @ Kaaboo Texas
May 13 – Athens, GA @ Georgia Theatre
May 14 – Atlanta, GA @ Variety Playhouse
May 15 – San Francisco, CA @ 6th Annual Acoustic-4-A-Cure Event
May 16 – Nashville, TN @ Bridgestone Arena++
May 17 – Nashville, TN @ The Ryman
May 20 – Seattle, WA @ The Paramount*
May 21 – Seattle, WA @ The Paramount*
May 23 – Eugene, OR @ Knight Center*
May 25 – Napa Valley, CA @ Bottle Rock*
May 27 – Topanga, CA @ Topanga Days
May 31 – San Francisco, CA @ Fillmore
June 1 – San Francisco, CA @ Fillmore
June 7 – Gilford, NH @ Bank of New Hampshire Pavilion^
June 8 – Gilford, NH @ Bank of New Hampshire Pavilion^
June 9 – Syracuse, NY @ Lakeview Amphitheatre^
June 12 – New York, NY @ Webster Hall
June 14 – Bangor, ME @ Darling's Waterfront**
July 15 – Hunter, NY @ Mountain Jam**
June 16 – Hartford, CT @ Xfinity Theatre**
June 19 – Columbia, MD @ Merriweather Post Pavilion
June 27 – London, UK @ Shepherds Bush
June 28 – Somerset, UK @ Glastonbury Festival
June 29 – Odense, DEN @ Tinderbox*
June 30 – Dortmond, GER @ Westfalenhalle*
July 2 – Dresden, GER @ Elbufer*
July 3 – Berlin, GER @ Waldbuehne*
July 5 – Mannheim, GER @ SAP Arena*
July 6 – Munich, GER @ Olympiahalle*
July 9 – Antwerb, BEL @ SportPaleis*
July 10 – Amsterdam, NET @ Ziggo Dome*
July 12 – London, UK @ Hyde Park*
July 14 – Kilkenny, IRE @ Nowland Park*
July 26 – Newport, RI @ Newport Folk Fest
July 27 – Newport, RI @ Newport Folk Fest
July 28 – Floyd, VA @ FloydFest
August 8 – Park City, UT @ Deer Valley Amphitheater
August 9 – Denver, CO @ Coors Field^
August 11 – Portland, OR @ Portland Zoo^^
August 13 – Seattle, WA @ Jet City
August 29 – Hershey, PA @ Hershey Park Stadium^
August 30 – Saratoga Springs, NY @ SPAC^
August 31 – Boston, MA @ Fenway Park^
Sept 1 – Boston, MA @ Fenway Park^
Sept 2 – Montauk, NY @ Surf Lodge
Sept 6 – Camden, NJ @ BB&T Pavilion^
Sept 7 – Camden, NJ @ BB&T Pavillon^
Sept 8 – Hartford, CT @ Xfinity Theatre^
Sept 11 – Forest Hills, NY @ Venue TBD**
Sept 13 – Philadelphia, PA @ Mann Music Center**
Sept 14 – Virginia Beach, VA @ Vet's United Home Loans Amphitheater**
Sept 15 – Raleigh, NC – Coastal Credit Union Amphitheater**
Sept 20 – Louisville, KY @ Bourbon and Beyond Festival
Sept 22 – Nashville, TN @ Pilgrimage
Sept 24 – Milwaukee, WI @ Turner Hall
Sept 25 – Minneapolis, MN @ Varsity
Sept 26 – Chicago, IL @ Thalia Hall
Sept 27 – Columbia, MO @ Roots and Blues Festival
Sept 28 – Sacramento, CA @ Farm To Fork
Sept 29 – Dana Point, CA @ Ohana Fest
Oct 12 – New York, NY @ NY Food and Wine
Oct 18 – W. Palm Beach, FL @ Coral Sky Amphitheater^
Oct 19 – W. Palm Beach, FL @ Coral Sky Amphitheater^
Oct 20 – Tampa, FL @ MidFlorida Credit Union Amphitheater^
Oct 25 – Rogers, AR @ Walmart Amphitheater^
Oct 26 – Dallas, TX @ DosEquis Pavilion^
Oct 27 – The Woodlands, TX @ Cynthia Woods Mitchell Pavilion^

+ w/ The Avett Brothers
++ w/ The Who
*w/ Neil Young
**Outlaw Country
^ w/ Zac Brown Band
^^ w/ Steve Earle
Follow Lukas Nelson & Promise of the Real:
Instagram
Twitter
Facebook
YouTube
Official Website
Merch Store